By JOSÉ MENDIOLA The Daily News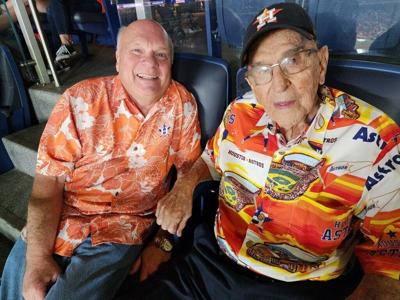 Vic Pierson and Milton Graugnard at the first game of the World Series.
COURTESY
GALVESTON
A 100-year-year old baker received World Series tickets earlier this year when a prominent banker read a Daily News article about his birthday.
Milton Graugnard, who celebrated his 100th birthday Oct. 23, is a Galveston native and World War II veteran, who once owned the famous G&G Bakery with his two brothers. He had the opportunity to experience his first World Series after Moody Bank CEO Vic Pierson gave him tickets for his birthday.
After Pierson had read The Daily News article about Graugnard, he thought about reaching out to the family to give two Game 1 tickets to watch the Astros and the Phillies battle it out on Oct. 28 for the MLB championship.
"When I had read the article I saw that he was an Astros fan and never missed watching a game," Pierson said. "He reminded me of my father-in-law."
Pierson's father-in-law got to experience the first world series in Texas, which was against the Rangers and St. Louis Cardinals.
"I also found out that Mr. Graugnard was a long-time customer of the bank," Pierson said. "That was really the icing on the cake."
With the help of The Daily News, Pierson reached out to Graugnard's daughter and they figured out the details, Pierson said.
"We were absolutely surprised," said Debra Graugnard, daughter of Milton Graugnard. "My dad was absolutely elated. He's the number one Astros fan and for him to experience his first World Series was amazing."
Although the Astros didn't win the game, losing 6-5, everything else was perfect, Debra Graugnard said.
Debra Graugnard and her father got to experience the world series by having front-row seats at the club house, she said.
"Everyone in our section knew it was my dad's birthday and they congratulated him — it was awesome," Debra Graugnard said. "It was really a VIP experience."
"To have seen him experience the game at the World Series was special," Pierson said.
"I was so surprised by the gift," Milton Graugnard said. "I'm also grateful to Vic for the experience. That was one of the most memorable experiences of my life."