Wayne Madsen
Executive Vice President, Director of Wealth Management and Trust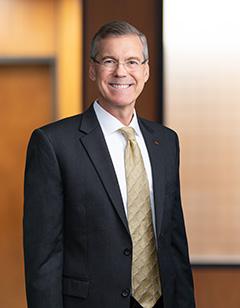 About Wayne Madsen
Wayne is an Executive Vice President, Director of Wealth Management and Trust (WM&T) at our Galveston Banking Center. He brings 29 years of industry experience, including the practice of law, to his role. Wayne loves working with people and finds their stories and experiences fascinating. WM&T is really a people business even more than a money business. We are fortunate to partner with clients in some of the most consequential parts of their lives. We can walk with them through their highest highs and some of their lowest lows. It's a privilege to be entrusted by our clients with not only their money and assets, but also with their hopes, dreams, and goals for themselves and their loved ones.
Wayne's advice for new customers is:
"Follow your heart. Of course, you want a provider who is competent and has industry acumen. However, many providers have those qualities and it's really not a differentiator. Less common are providers who really care, deeply, about their clients' best interests and will work hard to advocate on your behalf."
A graduate of the University of Texas, Austin and the John Marshall Law School, Wayne lives in Galveston with his family, where he is on the board of the Salvation Army of Galveston as well as the UTMB development board. He also participates with Rotary and, in his free time, enjoys travel, active pursuits, and reading.