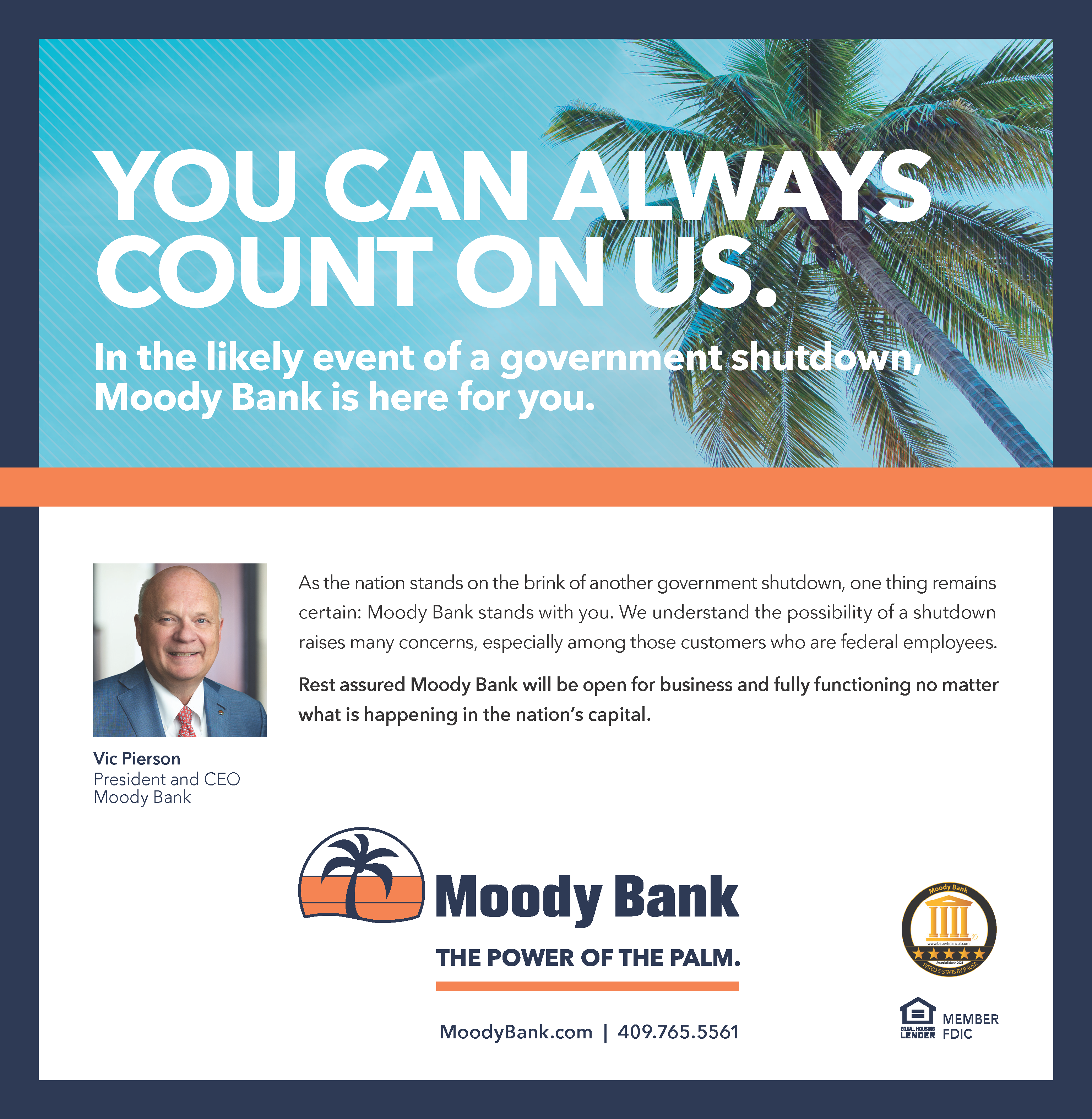 Moody Bank is available to assist should you feel impacted by the possible government shutdown.
Moody Bank stands ready to assist anyone affected by the shutdown. We are here to help.
We recognize and appreciate that some of our customers may be concerned about how the federal government shutdown could affect things such as paychecks for federal employees and government contractors, federal benefits payments, National Flood Insurance Program payments and other government programs. Moody Bank will continue to support our customers through major challenges such as this shutdown just as we did during the pandemic and previous interruptions in government operations. We stand ready to work with and support our customers who may be facing any hardships due to the current circumstances.
A government shutdown will have no direct impact on Moody Bank's operations. We are open for business and fully functioning no matter what is happening in the nation's capital.
This is an ongoing issue over spending within the federal government that does not directly affect our institution. While we are monitoring the situation, Moody Bank and the broader banking sector are strong, and FDIC-insured deposits are still fully protected and readily available. Regardless of what is happening in Washington, you can rest assured that the banking system is safe and your deposits will be there when you need them.
While Moody Bank is not directly affected by the shutdown, the Small Business Administration, Federal Housing Administration, the Department of Agriculture and other agencies with lending programs funded by the federal government could be impacted. That means loans requiring those offices' approval may not be processed while the shutdown is in effect. In addition, verification resources from certain government agencies, such as tax transcripts from the IRS, may not be available which could delay mortgage loan approvals.
Bottom line. We will work with our customers to make the shutdown as seamless as possible.