By: Darren W. King | Wealth Management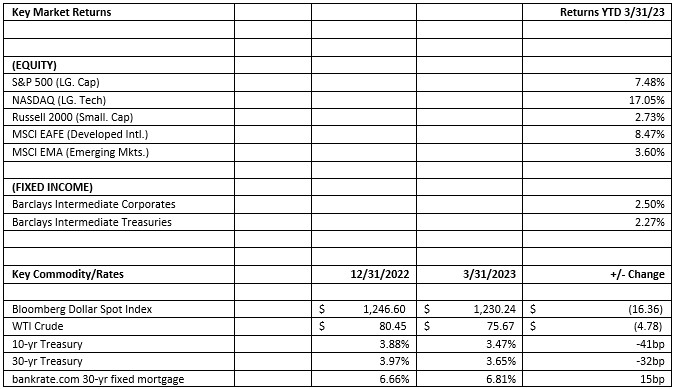 Source: Bloomberg, Inc.
Key Takeaways:
Inflation peaks in 4th quarter 2022, fed interest rate policy expected to pause in 2nd quarter, recession probabilities increasing
US stock and bond markets both post positive returns in the first quarter
70% of the first quarter S&P 500 return attributed to the growth stock bounce
Currently at 4.75%, fixed income markets now see a 5.1% fed funds rate by year-end 2023
The Consumer Price Index posts 6% inflation in February with services inflation still elevated
Labor market remains hot despite tightening cycle. Unemployment at 3.5%, lowest level since 1969
Equity Strategy
The S&P 500 is now trading at 17.8X forward earnings vs. the ten-year average of 17.3X. Bloomberg recession probability models are now showing a 100% chance of recession in the next 12 months. The average historical S&P 500 trough earnings multiple off of peak earnings has been 14.5X. This implies further downside in the equity markets if multiples reach historical bear market levels. With recession probabilities increasing, we advise waiting on the first quarter earnings season and managements outlook on 2023 earnings before getting more constructive on the equity markets.
Fixed Income Strategy
As of April 6, the 10-year treasury is yielding 3.29%. The last time the 10-year treasury was at current levels was in 2011; right after the great recession and the low interest rate regime began. Current Fed median dots plots expect a terminal fed funds rate of 5.10% at year-end 2023, with fed funds remaining above 3% well into 2025. TINA "There is no alternative to stocks" ends with the Moody's Seasoned Aaa Corporate Bond yield now at 4.38%. These levels offer an alternative to the risk of recession and falling earnings growth that may affect equity prices in the future.