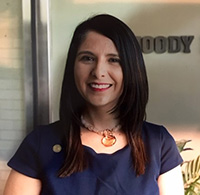 GALVESTON, TEXAS – Moody Bank's Katherine Rodriguez has been appointed by the Dallas Fed to the Community Depository Institutions Advisory Council. She is among 6 other new members, which include chairmen, chiefs, executives, and presidents from various financial institutions.
The council is part of a Federal Reserve initiative to enhance communication with community bankers and provides senior Dallas Fed officials with information on a variety of topics, including economic and banking conditions, regulatory policies, and payments issues.
Rodriguez, a certified public accountant, has been executive vice president and chief financial officer at Moody Bank for nearly twenty years. She was also appointed as an advisory member on the bank's board of directors in 2021. She sits on the Smith-Hutson Endowed Chair of Banking Advisory Board at Sam Houston State University. Prior to Moody Bank, Katherine provided assurance and advisory services with Deloitte.