Craig Barker
Executive Vice President, Chief Risk Officer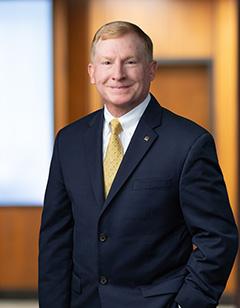 About Craig Barker
Craig is an Executive Vice President and Chief Risk Officer at our Main Banking Center in Galveston. He has been with Moody Bank for 27 years, including 7 years in his current role. For Craig, the most gratifying part of his job is working with the Moody Bank team to assist customers in achieving success.
Craig's advice for new customers is:
"Our core values of RESPECTED guide our team at Moody Bank. We will work hard every day to exceed your expectations and provide expert customer service with a personal touch."
A graduate of Texas A&M University in College Station and The Graduate School of Banking at Louisiana State University, Craig is a longtime resident of League City. He is on the Advisory Board of Texas A&M University's Commercial Banking Program and has served as president of the League City Lions Club and League City Economic Development Corporation. In his spare time, Craig enjoys hiking and fishing.