Debbie Williams
Senior Vice President, Executive Administration Assistant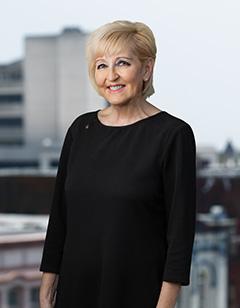 About Debbie Williams
Debbie is an Executive Administrative Assistant at our Main Banking Center in Galveston. Over her long banking career, she has held a variety of positions such as Operations Officer, Branch Manager, Regional Manager, Consumer Lender, and Business Development Officer.
For Debbie, the most rewarding part of her job is related to knowing the customer and matching a product or service to their specific need. "I've been blessed that many of our customers have banked with us for years, and we have been able to follow their journey, financial needs, and growth."
Debbie's advice for new customers is:
"Moody Bank is here for you! We have an experienced team of bankers who focus on providing excellent customer service. Instead of just a transactional account, we strive to develop a banking relationship with you. We want our customers to have a banker who provides information and feedback specific to their financial goals and situations, and we are that bank."
A graduate of San Jacinto College and the American Institute of Banking, Debbie lives in League City with her family. She volunteers with the Resource and Crisis Center and Clear Creek Community Church: Go Local Outreach Groups. Debbie is also a member of the Texas Bankers Association and Independent Bankers Association of Texas.
In the News:
Williams Named Among Women of Influence by Galveston County Daily News