Sara Kimbrough
Senior Vice President, Human Resource Administrator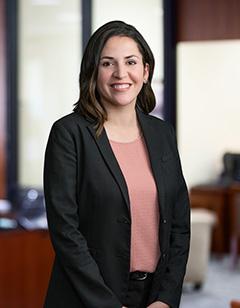 About Sara Kimbrough
Sara is a Senior Vice President and Human Resource Administrator based out of our Downtown Galveston Banking Center. She has been with Moody Bank for 22 years, seven of those in her current role. For Sara, the most rewarding part of her job is connecting with people across all levels in the organization:
"Being able to help others grow and seeing employees thrive is one of the best feelings. I strive to be an advocate for the company as well as the employees."
A graduate of UH-Clear Lake, Sara holds a degree in Business. She is a member of the Society For Human Resource Management (SHRM) and a board member for the Resource and Crisis Center of Galveston County. A 2021 recipient of the Texas Banker's Association Emerging Leader Award, Sara is a graduate of the Texas Banker's Association Management Development Program and serves on several TBA committees. She is also a member of the HR Committee that supports the Excellence in Banking Program at Texas Tech's Rawls College of Business.